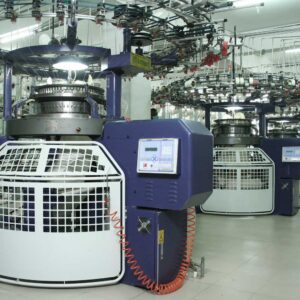 Knitting
With latest imported knitting machines and paramount precision, we produce uniform, high quality and comfort fabrics in diverse texture and GSM. We knit different types of fabrics such as Interlock, Rib, Jersey, Airtex, Honey Comb, Lycra Jersey, Fleece and Mini Jacquards in various structures and patterns. Our production capacity counts to 6 tons/day.
Turning yarn into cloth – Casting care and maintenance from the first stitch of knitting
Machine Description
FALMAC - Interlock & Rib - 24 to 36 Dia Ø - 12 Machines

SMART - Single Jersey - 18 to 34 Dia Ø - 10 Machines

Pointelle Rib wheel Jacquard - 30 Dia Ø - 1 Machine

Pointelle Rib wheel Jacquard - 36 Dia Ø - 1 Machine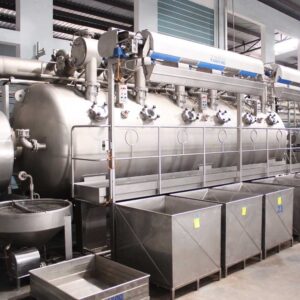 Processing
Producing good quality of Fabric – Processing integrated with best-in-class machineries
Dyeing
Jeyavishnu Clothing Private Limited, our dyeing unit is integrated with the best-in-class Air-Flow Technology machineries giving exceptional fastness and shade-matching. We employ azo-free, environmental friendly dyes and chemicals and treat all the effluents rightly before discharge. Our modern computerized laboratory supports the qualified chemists to take care of the color accuracy. Our division is inbuilt with a production capacity of 20 tons/day.
Padding & Drying
Offering fabric of high quality and efficiency is our core idea and we undertake ultra padding methods and process, thus ensuring that the fabric is devoid of folds and wrinkles. Superior quality grade mechanism is used in entire process, so that final output does not have any flaw. Then the fabric is processed through the dryer to remove off the dampness thoroughly. This automated drying process speeds up our production process. All the essential criteria such as temperature, humidity and drying time are carefully controlled over.
Compacting
The knitted fabric is compacted with modern machineries without compromising the soft texture and the quality of the fabric. Removing crease and tension marks, the fabric shrinkage is arrested at this stage. With a capacity of 20 tons/day, we support perfect and delicate finishing with a touch of perfection.
Machine Description
THEN Synergy - GERMANY, Air flow dyeing machines with integrated dye-house management system and dyes & chemical dispensing system.

Santex Santa Stretch - SWITZERLAND

Santex Santa Shrink – SWITZERLAND

Santex Dryer - SWITZERLAND

D

atacolor, color matching system - USA

Salce Laboratory Dispenser - ITALY

Mathis Lab Dyeing machines – SWITZERLAND

TUBETEX - USA (Tubular)

LAFER- ITALY (open-width & Tubular)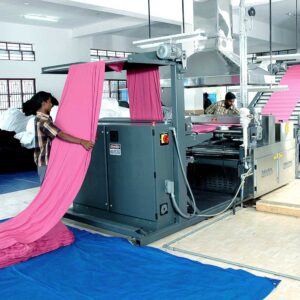 Fabric Finishing
Rendering a fine finish – Without compromising the soft texture and the quality of the fabric
Brushing
As per the requisition of the customer, the fabrics undergo a mechanical process called brushing, where a smooth metal brush rubs the cloth to cut the top layer of loosely spun yarns to give the fabric a smoothening and delicate finishing.
Machine Description
Chinelune - TAIWAN with a capacity of 6 tons/day
Garment Washing
Upon the client's request, the garment is washed with different chemicals for special effects. Different types of washing produce various finishing effects like Acid Wash, Silicon Wash, Bio Wash, Enzyme Wash, Caustic Wash, Carbon Wash and Stone Wash.
Machine Description
Ramsons - 1.5 tons/day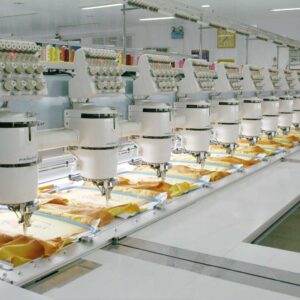 Value Added Services
Enhancing the appearance – Carrying out varieties of customer-centered fashionable services
Embroidery
One of our potency is that we carry out many varieties of fashionable embroideries as per the customer specification.Qrich Creations (Garments Division) employs computerized embroidery machines to set new trends with its own Punching, Designing, Appliqué Cutting and Roll Fusing process. As a fore-runner in the industry, with a history of experience, we set innovative and unique designs.
Machine Description
BARUDAN - JAPAN Multi Head Embroidery Machines - 7 Nos (128 heads) with a capacity of 3 million stitches/day

VIABLE - USA Applique cutting machine.

PROEL - ITALY Applique cutting machine.

FULON TECH - KOREA Roll fusing Machine (64'' width) with a capacity of 10,000 meters/day.
Screen Printing
Our printing division imparts colored designs to the cotton fabrics, printing intricate designs and elaborate shadings with various effects. We can accomplish a potential of 10,000 pcs/day. Making use of azo-free dyes and chemicals, we employ Plastitol, Glitter, Pigment, High Density, Non PVC, Foil and Flocking for creative and eye-catching designs.
Machine Description
Ramsons - 1.5 tons/day

Eight color printing machine - 7

Nos

Twelve color printing machine - 2

Nos

Flock printing machine - 1

No

Fusing machine - 12 Nos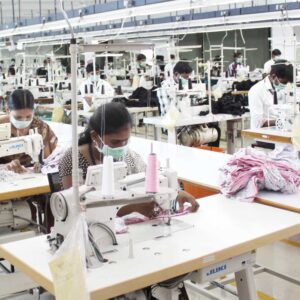 Production
We encompass more than thousand machineries and seven sophisticated units to manufacture outer and inner garments. With a monthly production potential of one million pieces, we renovate the fabrics into garments with most care and concern. At each stage of the production process, we concentrate on the quality and the finish of the garments.
Creation of clothing – Cutting-edge technology combined with innovative ideas
Cutting
With our automated facilities, the marked layout is sent to a controlled cutting machine, and the quality experts monitor the cutting process, thus housing a perfect transition of Automation to Manual Expertise. This combination speeds up production and enables us to produce more than a million garments every month.
Machine Description
Investronica Auto Cutters with CAD and PLOTTERS - SPAIN

Band Knife Cutting Machine

Straight Knife Cutting Machine
Sewing
Our sewing process is accompanied with world-class sewing machines that assemble the cut clothes to produce the finished garment. The diverse specialization of the operators enables an easy clear-cut finishing and this efficiency provides a solid shape to the ideas ending up with master piece garments.
Machine Description
Over Lock machine - Pegasus / Yamoto / Siruba

OL Elastic attachment machine - Siruba

Flat Lock machine - Pegasus

Single Lock stitch machine - Juki

Picoting machine - Kansai

Bar tack machine - Juki

Button holing machine - Juki

Buttoning machine - Juki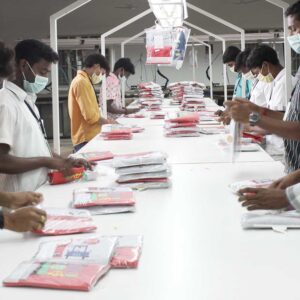 Finishing
Concluding with consistency – Examining the finished garments to ensure superior quality
In keeping with the provision of perfect quality, we carry out the inspection at every single stage of the process ensuring the highest possible standards. Further the finished garments are examined to ensure quality and consistency of the product before it is pressed and packed for delivery. Garments are ironed to give a professional and flawless appearance. Due care is taken at our unit to pack the products in corrugated boxes, so they remain intact, immaterial of the distance, time or mode of transport.

Extending extreme concern towards the safety, we employ the latest and extremely accurate metal detection equipments to verify the absence of the metal in the finished product
Machine Description
Needle detector - HASIMA - 7 Nos

Vacuum Ironing table set - RAMSONS - 25 Nos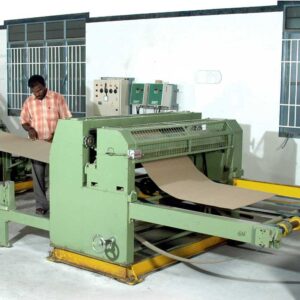 Packaging
Safety made certain – We securely pack the products to overcome transportation hazards
Our corrugation box manufacturing unit equipped with latest Corrugation Machineries with Dye-Cut Facility produces quality packaging boxes. We ensure that the products escape the hazards of the handling and shipping environment like shock, vibration, compression, moisture, etc… We deliver 3 tons of boxes per day.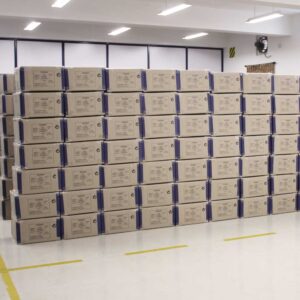 Warehouse
Custodial care – unscathed security facilities to safeguard large stocks of merchandise
Qrich Creations (Garments Division) has a secured and massive warehousing facility that can keep large stocks of the merchandise up to a magnitude of 300 CBM. These finished products ready for dispatch, are taken into custodial care until shipment.